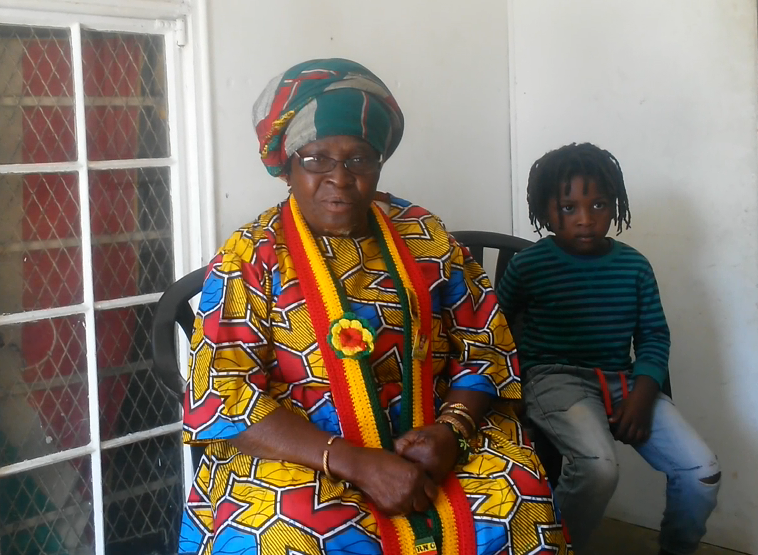 Mama B
While the country is experiencing once again another wave of xenophobic attacks in the Gauteng Region, The Rastafari Community in the Western Cape are facing similar challenges. Already they have to endure and fight against victimization from the police in their communities, now they are involved in a struggle to keep Mama B, a Rastafarian matriarch who repatriated to South Africa from Jamaica. She has been living in South Africa since 1996 and forms an instrumental part in community development and activism. She is a resident of Marcus Garvey Community in Phillippi, Cape Town and affectionately known to all as Mama B.
The trouble started when Mama B went to apply for her visa extension and had paid all the required fees. She was then informed by the agency that her application was in the process for final verification for citizenship and will soon be ready for collection. A letter arrived instead of her visa or citizenship status. The letter was giving her a few days to leave the country as her visa had expired and was not renewed. Mama B has to leave the country by 1st of March 2017, according to the orders given by the Immigration Office of Paarl.
During her stay here in South Africa she has been actively following due process to obtain her citizenship. She has provided all necessary documentation in this regard to the Department of Home Affairs and its Agencies. She has been staying in South Africa legally; renewing her documents timely and has never had a brush with the law. She is a 73-year-old woman who poses no security threat to the country nor the community that she resides in. She came to uplift the community and many Rastafarians can attest to that. She is a common sight at every Rastafarian gathering, be it social or otherwise. She has inspired many and many look to her for support and upliftment.
Now where is Mama B supposed to go? An African woman who repatriated from the West to the Mother land; only to be told that she is not welcome on African Soil. If African countries rejects our own where then are they supposed to turn to.
Theocracy Reign Order, Nyahbinghi House of Paarl has sent a letter of appeal for non-deportation to the Minister of Home Affairs. They are in the process of appealing the case and mobilizing support from Mansions in South Africa to come out and help with the appeal process.
Please contact Sister Sharlene on +27 76 899 5609 or Mama B directly on +27 712498515 for further information and updates. They will welcome any form of Support, advice and encouragement.
Comments
comments